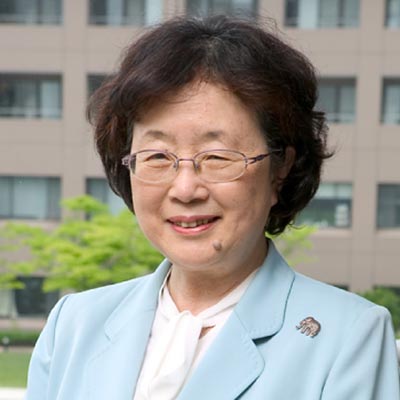 Kazuko ISHIGAKI
President Ishikawa Prefectural Nursing University
This year marks 14 years since the establishment of Ishikawa Prefectural Nursing University (IPNU), and many qualified nursing personnel have now been sent out into Ishikawa Prefecture.
Based on the University's bright, open and free atmosphere, we place great importance on education that extends the personal qualities of each student. Students gain all the necessary skills and knowledge for the nursing profession from enthusiastic nursing staff. At the same time, we place importance on the foundation of knowledge and skills. Students study a range of meaningful topics from teachers in charge of Health Science who encourage logical thinking, and from teachers in charge of Human Science who teach the knowledge necessary for objective understanding when helping others. The passion that the teaching staff show towards the students raises their awareness of nursing as a specialist profession, and nurtures feelings of warmth and empathy towards the sick and those in difficult situations.
In addition, while the University has collaborated with the local community to conduct a range of activities and research projects, it also has an exchange program with the University of Washington, U.S.A., and provides support for JICA activities in South American countries. In this way and others, the University provides many opportunities to students for unique and valuable experiences.
Through four years of study, students grow into workers who can provide nursing care that is truly appreciated. We aim for our graduates to become personnel who can be future leaders and contribute to the development of nursing science. Currently in Japan, there are increasing expectations placed on those who have studied the profession of nursing at university. We hope our university appeals to you, and that you will consider learning with us.