International Exchange
A summer nursing training program was held in the United States during the 2016 academic year.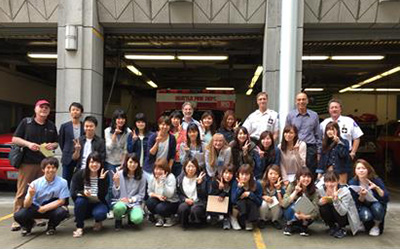 A summer nursing training program was conducted in Seattle, Washington from August 26 to September 8, 2016 with 23 students (19 third-year and 4 second-year) participating in it.
Content of the training
1. Lectures
A lecture was delivered by Japanese nurses working in Seattle, and the students had the opportunity to listen to these nurses' views on health care and the current state of the American health care system. Yoriko Kozuki, Associate Professor at the University of Washington's School of Nursing, talked about nurse practitioners' ability to prescribe medicines and also shared her own clinical experiences, enabling the students to learn why nurse practitioners are considered necessary in America and how their role is distinctive from that of doctors. A nurse employed in a rehabilitation facility talked about nursing care in the clinical setting, focusing on the differences between Japan and America. The students benefited from exchanges with people working in various types of facilities.
2. English conversation classes
The students deepened their study of English by getting preliminary explanations at all the facilities they visited, engaging in follow-up discussions after the field trips and, of course, by using the conversational English necessary for everyday life. Their English conversation class was divided into small groups, with an emphasis on interaction so that the students would not be passive. The knowledge gained in this class helped students when they asked questions on the field trips and in their conversations with people at these facilities.
3. Field trips to health care and social welfare facilities
University of Washington
University of Washington, School of Nursing
Swedish Hospital
Harborview Hospital
Redmond Care and Rehabilitation Center
Keiro Northwest Nursing Home
Nikkei Manor Nursing Home
4. Homestay
During the two weeks, host families warmly welcomed the students into their homes, giving them a chance to learn the English language as well as gain extensive exposure to American culture and customs. When they were parting, the students and host families tearfully hugged each other and promised to keep in touch.
Report of Activities
Valuable experiences in America
Assistant Professor Ohe Shingo, Leader
Two weeks were a short period of time, but the students could be in contact with health care and nursing in America and gain an understanding of the American health care system. They also had a chance to think more deeply about the strengths of Japanese health care and about what can be learned from American health care. The students improved in their English communication each day, and they had lively English conversations with their homestay families and English language teachers. I felt that conversations with the locals were incredibly useful in improving the students' English abilities.
The opportunity for students aspiring to become nursing professionals to experience a culture and a nursing and health care system different from Japan's allowed for a multifaceted understanding of the subject. This experience provided the students with new viewpoints on nursing, and it was also an important in cultivating the ability to build relationships with a wide variety of people.
Learning at Summer Nursing Training in America
Kurumi Kitano, Third-year student
Through the training program, I gained an understanding of the differences between health care in America and Japan. In particular, America is a multiethnic nation with a wide variety of values and cultures, so it is essential to provide nursing that deals with these realities. Moreover, the disparities in wealth and poverty are largely responsible for the qualitative differences in people's health. In addition to the above experiences, I have two primary recollections of my experience of life in America, as well as what I learned in the training program itself.
During those two weeks, I exchanged the words "Thank you" many times over and constantly saw smiling faces. These words are used very frequently in America, and life is full of small kindnesses like people holding the door for the person behind them or yielding their seats on public transport. In response to this, almost everyone directly says "Thanks." I felt a sense of assertiveness that Japanese people do not seem to have, such as in not hesitating to be kind to others and not seeming annoyed at all about assisting others. I imitated this assertiveness, had enjoyable interactions with many people, and experienced the fun of communicating in English.
I could observe the values and cultures that exist within the varied U.S. population, as well as people's warmth, because I had the chance to go to a real U.S. city and see, hear, and experience it for myself. I am really glad that I was able to participate in this training program.
Participating in Summer Nursing Training in America
Hitomi Kido, Third-year student
At the summer nursing training program in America, I learned the differences in lifestyles, food culture, and health care between Japan and America. During the two weeks, I visited hospitals and nursing homes and took English lessons related to everyday conversation and health care at the University of Washington.
At the Swedish Medical Center, there was a simulated model of delivering a baby, constructed so that it could respond to human voices, which made it close to a real-life delivery setting. I felt that I was able to experience real practice.
Because America is an individualistic country where a variety of people with different roots and ethnicities are gathered in one place, their way of thinking about health is very different from that in Japan. In Japan, public health insurance, medical care, and welfare work together to provide treatment and support environments conducive to recuperation for people with diseases. However, in America health insurance is frequently private, and I learned the way of thinking that "people will manage their own health."
At my homestay, I was very anxious about being in an environment linguistically and culturally different, but in some days, I got used to it. I also interacted with the friends of my host family during my days off, adding to my positive experience. I feel that I will be able to use what I have learned through this training program in my future life as a nurse.